イマジナリーレンジに登場するキャラクターを紹介します。
We'd like to introduce the characters appearing in Imaginary Range.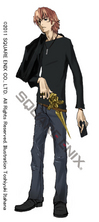 主人公 シド 27歳
シドはサイコセラピストという特殊な技師です。
どういう技師なのかはコミックを読むまでのお楽しみです。
物事に執着がないためか、彼の言動は真剣味が感じられないので、シエラから良く怒られています。


Hero: Cid, aged 27
Cid is a special type of technician known as a psychotherapist. You'll have to wait until you read the comic to see just what kind of technician that is. Whether it's because of his lack of attachment to anything or his glib nature, he's often the subject of Ciela's anger.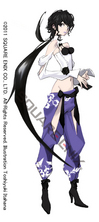 ヒロイン シエラ 19歳
物語のヒロイン。シドのパートナー。
明るく、ややがさつに振舞っていますが、内面は悩み多き乙女です。


Heroine: Ciela, aged 19
The heroine of the story and Cid's partner. Her behavior is lively and rough, but inside she's young girl with worries aplenty.