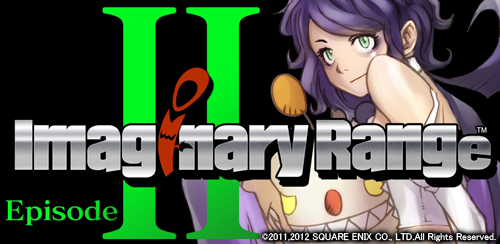 お待たせしました!
第2章、Android版の配信です。
すでにGoogle Playで配信しておりますので、ぜひダウンロードしてみてください。
iOS同様Twitter/Facebookへの投稿機能がありますが、残念ながら現状は動作が不安定になります。
原因調査中ですので、あらかじめご了承いただきますよう、お願いいたします。
---
We've kept you waiting, but distribution has begun for the Android version of Episode 2. It is already available from Google Play, so please give it a whirl!
As with the iOS version, it comes with Twitter and Facebook functionality, but we're sorry to say that it's currently a bit unstable. We're investigating the issue and appreciate your understanding.

Google Play direct link:
https://play.google.com/store/apps/details?id=com.squareenix.android.imaginaryrange02&feature=search_result#?t=W251bGwsMSwyLDEsImNvbS5zcXVhcmVlbml4LmFuZHJvaWQuaW1hZ2luYXJ5cmFuZ2UwMiJd
Facebookページはこちら